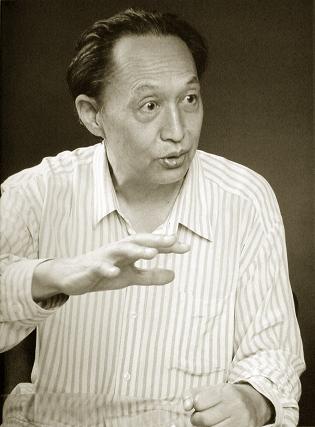 The Professor He Baosen,
Initiator of Brightness and Ink Painting
He Baosen,pen-named Wangshan, is born in Qujing of Yunnan Province, December 12th, 1938. Graduated from Central Academy of Arts and Crafts (now changed its name into Academy of Arts of Tsinghua University), First elected Chairman of Chinese Committee of Sculpture, Permanent Vice-Dean of Senior Professor Calligraphy and Painting of Central Academy of Arts and Crafts.
Organized and participated in "Star Art Exhibition", in which his works of "Endless Road", "Beethoven" caused a sensation throughout the country and abroad in 1980s.Initiated new disciplines of decorative sculpture, metal art and craft, and ornament design. Trained graduate students home and students from abroad. Published works: "On Decorative Sculpture", "On Decorative Painting", "Form of Beauty of Decorative Painting", and " Ornament and Beauty". Participated in design for bidding "Hong Kong Buddha of Temple of Heaven" and so forth.
Sculptural works: "Cow-Headed King" (bronze sculpture) stored in Temple of Eight Kings in Tokyo, Japan. "Eastbound galloping Miraculous Horse" in Kunming, Yuannan Province, " Statue of Hua Luogeng " in Chinese Academy of Science, Beijing, "statue of Li Dazhao" in Li Dazhao Memorial Hall in Tangshan Leting.
Studied with great concentration for several decades in integration of Chinese-Western painting and initiated "the Method of Brightness and Ink ".
Published Volume one and Volume Two of "He Baosen Collections of Fine Arts ". Individual biography carried in "World Chinese Who's Who on Literature and Art ". Obtained "Global Chinese Sculpture Master Golden Dragon" by Hong Kong (abroad) Literature and Art Association in 1999.